Harry and Meghan have gone to lengths to give their children, son Archie and daughter Lilibet, a calm environment in which to grow up.
Archie lived the first years of his life in the UK, while Lilibet was born in Santa Barbara, not far from the Sussexes' home in Montecito.
Before the Netflix documentary series dropped in December, royal fans didn't get to see much of Archie and Lilibet. But when the show aired, Harry and Meghan decided to open their doors to the world.
Archie's birth was quite something for the couple, especially for Harry, who revealed that he took all the laughing gas from his wife and even ate chicken. In his book, Spare, the Prince also shared details of when Lilibet was born – namely that he felt as though he had "delivered" her by himself. He also mentioned that soon after Lilibet's birth, he had a most tearful question for his beloved wife.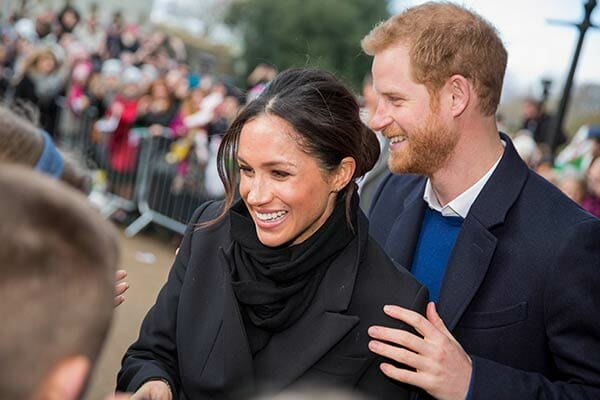 On June 4, 2021, Prince Harry and Meghan Markle announced the fantastic news that their daughter, Lilibet, had been born.
Lilibet's birth was uncharacteristically private for a royal baby – royal fans back in England were given hardly any details to sate their curiosity. It was quite the contrast to her brother Archie's birth, years before.
Usually, when a royal baby is born, the parents pose before the media in front of the hospital. After photographs are taken, the proud mother and father usually answer a few questions before retreating to privacy once more.
Harry and Meghan, however, wanted to approach their son's birth differently, according to Katie Nicholl. So instead of facing the media openly, they tricked reporters and photographers.
Prince William, Harry, and William's children were all born at St Mary's Hospital; thus, the traditional first baby photos were taken there. However, Meghan's doctor worked at Portland Hospital. Therefore, it made sense to give birth there. The Sussexes were also told that the place would make a frenzy of photos impossible due to safety considerations around the entrance.
"There was already the pressure of the picture on the steps. … But I had been really worried going into that labor because I'm older, I didn't know if I'd have to have a c-section, and I had a very longstanding relationship with my doctor, and that's who I trusted with my pregnancy," Meghan Markle explained.
Two days after Archie's birth, Harry and Meghan decided to participate in a brief photo session, where one reporter got to ask questions.
"I'm very excited to announce that Meghan and myself had a baby boy this morning, a very healthy baby boy," Harry said, appearing outside of Windsor.
"I haven't been at many births. This is definitely my first birth – it was amazing, absolutely incredible."
"I'm so incredibly proud of my wife. And as every father and parent would say, your baby is absolutely amazing."
"It's been the most amazing experience"
Harry added: "How any woman does what they do is beyond comprehension. But we're both absolutely thrilled. We're both absolutely thrilled and so grateful for all the love and support from everybody out there. It's been amazing, so we just wanted to share this with everybody."
He added: "But this little thing is absolutely to die for, so I'm absolutely over the moon It's been the most amazing experience I could ever have possibly imagined."
It didn't take long before Harry and Meghan left the UK following their withdrawal from royal life. The couple settled in Canada before buying their big house in Montecito, California. The town, known for its celebrity population, is about 90 minutes from Los Angeles and provides somerthing of a safe haven for celebrities who wish not be pursued by paparazzi day after day.
At the time the couple moved into their new home, interviews and allegations about the royals began to surface, and never more so than after Harry and Meghan sat down with Oprah Winfrey to perform a tell-all interview. It rocked everyone in the royal sphere, and today, the rift between the Sussexes and the Palace is notoriously sour.
Though Harry and Meghan obviously had a very tough time living in the UK, things would take a different turn when the couple welcomed a new family member.
On June 4, 2021, the Sussexes announced the birth of their daughter, Lilibet, at the Santa Barbara Cottage Hospital Emergency.
In comparison to Archie's birth, this time, Harry and Meghan decided to keep as much as possible private surrounding Lilibet's birth. They released a short statement sharing the happy news after her entrance into the world.
"Lili was born on Friday, June 4, at 11:40 a.m. in the trusted care of the doctors and staff at Santa Barbara Cottage Hospital in Santa Barbara, CA. She weighed 7 lbs 11 oz. Both mother and child are healthy and well and settling in at home," the statement read.
"Lili was born on Friday, June 4, at 11:40 a.m. in the trusted care of the doctors and staff at Santa Barbara Cottage Hospital in Santa Barbara, CA. She weighed 7 lbs 11 oz. Both mother and child are healthy and well and settling in at home," the statement read.
"Lili is named after her great-grandmother, Her Majesty The Queen, whose family nickname is Lilibet. Her middle name, Diana, was chosen to honour her beloved late grandmother, The Princess of Wales … The Duke and Duchess thank you for your warm wishes and prayers as they enjoy this special time as a family."
It wasn't until the Netflix documentary in December that fans got to see more of Archie and Lilibet. And in his new book, Harry shared more details about the day their beloved daughter was born.
In Spare, Harry revealed that the couple paced around their room at the hospital, eating burgers and fajitas during the first hours of labor.
When the doctor told them their daughter was just a few minutes from coming into the world, Harry got to work and, with assistance from a medical professional, delivered Lilibet himself. He claimed he wanted to be the first face the tiny infant saw as she entered the world.
"I cradled her just a moment, trying to smile at her, to see her, but honestly I couldn't see anything," Harry wrote in Spare, adding that he wondered if she was frightened.
Harry's heartfelt question to Meghan after Lilibet birth
He wanted to tell his wife: "Don't be, don't be, all will be well. I'll keep you safe."
As any parent will know, the feeling of seeing one's child for the first time is one nobody can adequately describe. The same rang true for Harry and Meghan, and right after they had returned home from the hospital, the couple shared a very intimate moment.
Before they knew it, it was time to travel home with their new addition, ready to start a new chapter in their lives. Harry recalled an extraordinary moment he shared with Meghan during those first few hours as a family of four.
In his book, Harry recalled that they were doing "skin-to-skin" with Lilibet, and Meghan said: "I've never been more in love with you than in that moment."
For his part Harry was unsure whether to believe her or not.
He asked, "Really?" only for Meghan to confirm by repeating the loving words to him.
Harry and Meghan are still referred to as the Duke and Duchess of Sussex. This is because those titles were given to them by the Queen on their wedding day and, therefore, not can be taken away.
The only thing that could change that fact would be through an Act of Parliament passed by the House of Commons and the House of Lords.
However, since Harry and Meghan have left the Royal Family, they're no longer referred to by their His & Her Royal Highness titles. Interestingly, when Lilibet was born, however, something on her birth certificate didn't quite add up.
The birth certificate requires the parents' legal names; on Meghan's, it said "Rachel Meghan Markle." Harry had a first name, "The Duke of Sussex" – and a last name, "His Royal Highness," despite him not having the title anymore.
As for when Archie was born, the Sussexess filled in the document quite differently.
Harry wrote his name as "His Royal Highness Henry Charles Albert David Duke of Sussex," and Meghan used the title "Rachel Meghan Her Royal Highness The Duchess of Sussex."
Moreover, the couple had to list their occupation, with Harry and Meghan writing "Prince" and "Princess of the United Kingdom." That itself is intriguing since Meghan has never held the title of princess.
While the royals continue with their everyday lives, including all the engagement and duties that come with it, Harry and Meghan are raising their two children in sunny California.
Meghan describes 'juggling' between Archie and Lilibet
The pair have said that it has been fantastic watching their children grow and learn new things, though understandably, it has also been a demanding time.
In an episode of her podcast Archetypes, titled "Good Wife/Bad Wife, Good Mom/Bad Mom," Meghan discussed the feelings of being a woman and a parent in the modern era.
"Part of the labels that we're talking about… This idea of what it means to be a good mom, or like a Stepford Wife – all of these different archetypes where you feel this pressure to have to be a more or a wife or a partner in a certain way … and then the mom shaming that comes with it, often times," Meghan said.
Meghan described how she tries to "juggle" between her two young children in the morning, saying that Harry helps her to get the day started.
"You know, both monitors on for the kids to hear them, always up with Lili, get her downstairs, then a half hour later Archie's up," Markle explained. "Start doing his lunch box before he's up while I have her, getting her a little nibble. My husband's helping me get him downstairs. I make breakfast for all three of them. It's very important to me. I love doing it," she said.