As with the rest of the Royal Family, Camilla, Queen Consort, has many hobbies in her life that she's passionate about. After Queen Elizabeth's passing, she became responsible for the royal stables, and reportedly always finds peace in her Highgrove House garden.
However, with Camilla approaching 76, one of her favorite hobbies is now sadly beyond her capabilities. The Queen Consort's love for horses will never fade away, but she's reportedly ridden on one for the last time.
The coronation of King Charles and Camilla is now just about a month away. Preparations for the big day have been ongoing for months, and weeks ago, plans for the historic event were leaked. They included details about the roles Prince George, Princess Charlotte, and Prince Louis will play, as well as various other aspects of the day's schedule.
Naturally, exactly how the Coronation will unfold remains to be seen.
There's been plenty of discussion regarding whether Prince Harry and Meghan Markle will be in attendance or not, while speculation regarding Camilla's outfit – her crown in particular – has also been a hot topic.
In February, Buckingham Palace announced that Camilla would be crowned with Queen Mary's Crown on May 6. It is set with 2,200 diamonds and was worn by Queen Mary for the coronation alongside her husband, King George V, in 1911.
The crown will be altered for the upcoming coronation and is set to honor the late Queen Elizabeth – the headpiece will be replaced with diamonds Cullinan III, IV, and V, all from the late monarch's personal jewelry collection. Queen Elizabeth often wore them as brooches, as reported by People.
In the past, a new crown was commissioned anytime a Queen Consort was to be crowned. In fact, this will be the first time in recent history that an existing crown will be used, with the Palace stating it is "in the interests of sustainability and efficiency."
Camilla's coronation crown
It was previously suggested that Camilla might wear the Koh-i Nûr diamond, one of the largest cut diamonds in the world, in her crown. The Queen mother's crown for her 1937 coronation featured the diamond.
The diamond came into British possession in 1849 when the East India Company took it from a 10-year-old boy named Maharaja Duleep Singh, a ruler of the Sikh Empire. It was surrendered to Queen Victoria as a part of their peace treaty. However, historians have suggested that the diamond is only a symbol of conquest, and India, Pakistan, and Afghanistan have claimed ownership of it.
"The coronation of Camilla and the use of the crown jewel Koh-i-Nûr brings back painful memories of the colonial past," a source from the Bharatiya Janata Party in India told The Telegraph last year.
"Most Indians have very little memory of the oppressive past. Five to six generations of Indians suffered under multiple foreign rules for over five centuries. The coronation of the new Queen Camilla and the use of the Koh-i-Nûr do transport a few Indians back to the days of the British Empire in India," the source added.
Just like King Charles, Camilla will also have a traditional scepter (the same one has been used by queen consorts for over 300 years).
The scepter is made of ivory, which may cause an issue in Camilla's case. Prince William is among those to have campaigned at length about the ivory trade – the illegal hunting of elephants for their ivory tusks. Alongside his wife, Princess Kate, the Prince has a significant interest in preserving wildlife and has repeatedly demanded that the ivory trade be stopped.
Camilla could make "big mistake" if she rejects the queen consort sceptre at coronation
In 2016, Prince William – who is patron of the conservation charity Tusk – described ivory as a "symbol of destruction, not of luxury," calling for a complete end to the trade.
"When I was born (1982), there were one million elephants roaming Africa. By the time my daughter Charlotte was born last year, the number of savanna elephants had crashed to just 350,000. At the current pace of illegal poaching, when Charlotte turns 25, the African elephant will be gone from the wild," the Prince of Wales said.
"The threat to some of Africa's most iconic wildlife is damaging for the human population too. It is some of the world's poorest people who will suffer when their natural resources are stripped from them illegally and brutally. It is families in the world's most vulnerable regions who suffer when two rangers are killed every week on the front line of this fight," he continued.
Royal expert Richard Eden, however, argues that it would be going "too far" to try and appease everyone.
Writing in the Daily Mail, Eden says the issue is an "interesting sign of the times" but that the royals can't take responsibility for everything in its history. He claims Camilla is making a "big mistake" if she rejects the 330-year-old scepter at the coronation.
"Apparently [Camilla] is not going to have the Queen Consort sceptre, which has been used by every Queen Consort for more than 300 years at the Coronation of a King. Now the reason is because it's made of ivory, but it's particularly awkward because… Prince William has campaigned against the trade…in modern ivory…and the illegal killing of elephants. But it's thought he's not keen on using historical ivory either," Eden wrote.
"I think it's a mistake to go down this route because you will never satisfy these people. There'll always be someone offended, and if they go down this route, you're apologising from the start," he continued, adding that the Royal Family should be free to acknowledge "the good and bad things of [their] past."
Camilla hobbies
Besides her many royal duties, Camilla has hobbies outside of work, just like the rest of us. She's been praised for her efforts with many charities, including animal welfare and literacy, and ever since she was young, she's been very interested in reading and drawing.
Camilla has spoken of the importance of children's books many times, and during the pandemic, the Queen Consort even set up her own book club on Instagram. Previously, she revealed that Black Beauty is one of her favorite books.
Just like her husband, Camilla also has a big passion for gardening. At their home of Highgrove House, the couple are keen on spending time in their big garden, where they not only take care of an impressive amount of flowers and plants but also grow their own food.
"I love the vegetable garden. I'm very proud of my white peaches. My husband is an excellent gardener, and we're quite competitive about our fruit and vegetables," Camilla told Vogue magazine last year.
During the pandemic, the garden became somewhat of an escape for King Charles and Camilla. The monarch previously revealed how Prince George has spent time with them on their Highgrove House estate and even planted a tree.
Speaking to BBC, Camilla said the gardens "got people through Covid."
"It was a sort of spiritual experience for them, they discovered a sort of affinity with the soil – you can go into a garden, and you can completely lose yourself, you don't have to think about anything else, you're surrounded by nature, you've got birds singing, you've got bees buzzing about – there is something very healing about gardens," she said.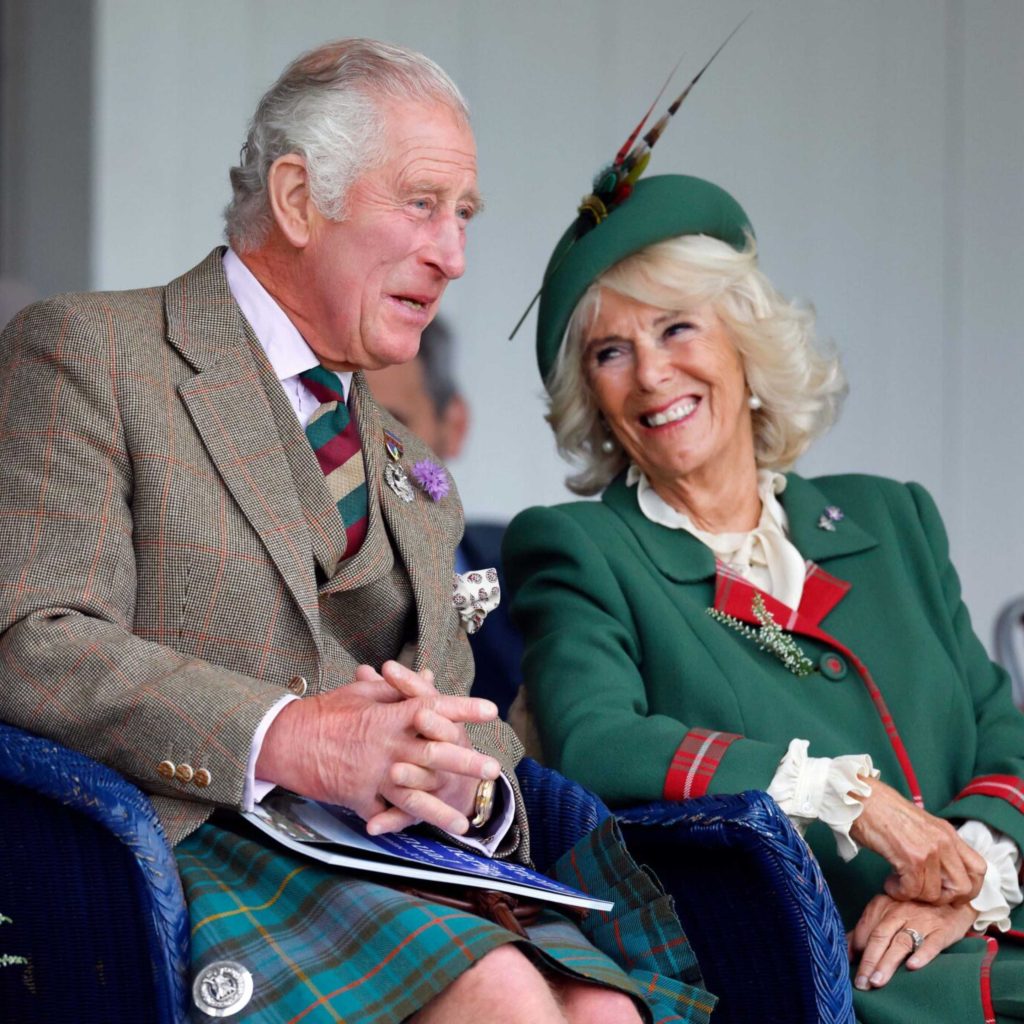 Yet Camilla's hobbies aren't exclusively things to do with her home. She also has had a great passion for horses for many years, a passion she shared with the late Queen Elizabeth II.
Passionate horse interest
The Queen was a renowned horse enthusiast and expert, owning several racehorses. As Camilla recalled, there was no point in questioning her on how horses were bred.
"You wouldn't dare question her or argue with her on how horses are bred or how it ran because you'd get a very steely, blue-eyed look back again," the newly anointed Queen Consort recalled, per the Daily Mail.
"She was able to escape to Sandringham, she had the stud next door. She could go every day, see her foals, work out, you know, the next meetings for the year. I think she always kept that as … her private bit."
When Queen Elizabeth passed away, Camilla became the new owner of the late Queen's racing horses. According to Metro, it is the first time a King and his Queen Consort both are registered owners.
Besides holding the reins of the late monarch's horses, Camilla is also a patron of a riding school in south London. As the Duchess of Cornwall, she supported the Ebony Horse Club, the British Equestrian Federation, and the Brooke Hospital for Animals. She has always loved riding – but unfortunately, that period of her life is over for good.
Last week, King Charles and Camilla visited Germany on their first-ever historical trip abroad as King and Queen Consort. The royals visited several cities around the country, and were greeted by the public wherever they went.
Camilla says she's "too old" to ride horses
When the three-day trip came to an end in Hamburg, Camilla met a group of schoolchildren. And as the Daily Mail revealed, the Queen Consort told them that she has had to give up her beloved horse riding hobby due to her age.
"I used to have horses I rode but sadly I don't ride any longer. I think I'm too old, but I have racehorses," she said, according to the news outlet.
Even though Camilla can't go horseback riding anymore, that doesn't mean she's giving up her interest for good. Far from it. As the Daily Mail reported, Camilla kept in touch with her stables during the trip to Germany. She even watched a video of one of her horses giving birth!
"Last night, I watched on my screen one of the foals being born, which was very exciting," Camilla said.
Do you think Camilla is going to make a good queen or not? Please, share this article on Facebook with friends and family, and give us your opinion!