A few days ago, Simon posted on Instagram a photo with his son and dogs and made a big announcement about him and his son.
Here it is. I wanted to share something exciting my son Eric and I have been working on. I would like to introduce to you #WISHFITS. To begin with, we have announced a seven-book deal with @hachettekids today.
WISHFIT is a world where the most unusual animals exist. The WISHFITS are magical, and unusual and have evolved weirdly and wonderfully, combining two different species to form hybrid animals with very distinct characteristics!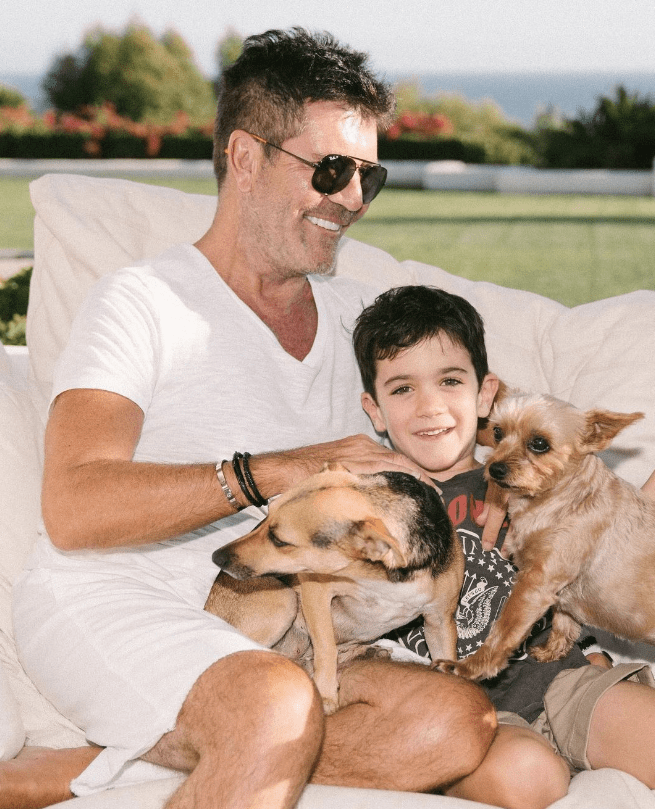 Some of Eric's favorite WISHFITS include the DAT (dog/cat) the COG (cat/dog), and the SNOG (snail/dog – the enthusiasm of a dog at the speed of a snail). The PEEP (pig/sheep) the CHUG (cheetah/slug – the slowest cat in the world), the HIPPOROO (hippo/kangaroo), the CHIMPANPOO (chimpanzee/poodle), the POLARBAT (polar bear/bat), the CROCOPUSS (crocodile/cat), the SHIGER (sheep/tiger – the most nervous cat in the world), the SPIKEY (spider/donkey) and many, many more.
To be able to write a series of books with my son Eric has been magical. This idea was inspired 3 years ago by a very special friend of ours who runs a Children's Hospice charity. I told her one evening about some of the funny animals my son Eric and I would invent, starting with the Cog and the Dat. And how every evening the two of us would think of the most unlikely animal we would like to have. She loved this idea so much that she encouraged me to turn this into a book series.
I then met with an amazing company called @tongalteam which has a global community of creators. We loved the idea of thousands of creative people being part of the development of our idea. I am thrilled to be working with Hachette, an amazing publishing house. They shared our passion and enthusiasm from the moment we told them about WISHFITS.

Two of the children's charities I work closely with will benefit from the profits of WISHFITS
Share this, if you want to help Simon and his son.
A little bit about Simon if you don't know him well
Simon Phillip Cowell is an English television personality, entrepreneur, and record executive. He is the creator of The X Factor and Got Talent franchises which have been sold around the world. He has judged on the British television talent competition series Pop Idol (2001–2003), The X Factor UK (2004–2010, 2014–2018) and Britain's Got Talent (2007–present), and the American television talent competition series American Idol (2002–2010), The X Factor US (2011–2013), and America's Got Talent (2016–present). Cowell is the founder and sole owner of the British entertainment company Syco.
After some success in the 1980s and 1990s as a record producer, talent scout, and consultant in the UK music industry, Cowell came to public prominence in 2001 as a judge on Pop Idol, a talent television show which he and its creator Simon Fuller successfully pitched to ITV Controller of Entertainment Claudia Rosencrantz. In 2004 and 2010, Time named Cowell one of the 100 most influential people in the world. In 2008, The Daily Telegraph ranked him sixth in their list of the "100 most powerful people in British culture".The same year, he received the Special Recognition Award at the National Television Awards. At the 2010 British Academy Television Awards, Cowell received the BAFTA Special Award for his "outstanding contribution to the entertainment industry and his development of new talent". In 2018, he received a star on the Hollywood Walk of Fame in the television category.
Cowell often makes blunt and controversial comments as a television music and talent show judge, including insults and wisecracks about contestants and their singing abilities. He combines activities in both the television and music industries. Cowell has produced and promoted successful singles and albums for various recording acts whom he has signed and taken under his wing, including Little Mix, James Arthur, Labrinth, Leona Lewis, Fifth Harmony, Il Divo, Olly Murs, Noah Cyrus, Cher Lloyd, Fleur East, and Susan Boyle. He has also signed to successful boy bands such as Westlife, One Direction, PrettyMuch, and CNCO.
Thank you for reading.